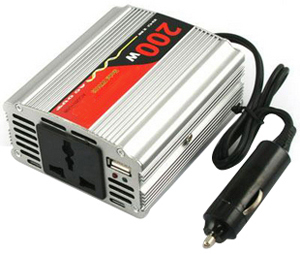 Product Model :
SS-I200w-A
Product Intro : 200W DC 12V To AC 220V Power Inverter
Output Power: 200W

Peak Power: 400W

Output Voltage: 210V-240V

Input Voltage: DC 10V~15V
Product Description
Convert DC 12V electricity source into AC 220V power.

Widely used for all kinds of electric equipments which power consumption are less than 200W and which voltage are equal to AC 220V, such as cell-phone, portable computer, electric light, digital camera, vidicon, TV, CD player, DVD, electri fan, electric tool and so on.

It can be made from advanced PWM CMOS chip, and can work in the state of ultrasonic sound, which can both in a great extent minish the bulk and weight and make the circuit work without noise.

The output of the product is a universal socket, which can be used in many countries.

The newly-added USB output socket can be directly used to charge for MP3 and mobile phone.
Specification:
Output Power: 200W

Peak Power: 400W

Output Voltage: 210V-240V

Input Voltage: DC 10V~15V

Output Frequency: 50 Hz

Dimensions: (152 × 95× 55)mm

Weight: 550g

Connector: USB 5V