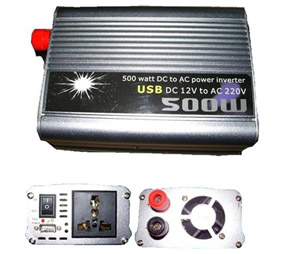 Product Model :
SS-I500w-A
Product Intro : 500W DC 12V To AC 220V Power Inverter
· Input voltage: 10.5-15V DC
· Output voltage: 210V - 240V AC
· Power rating: 500W
· Frequency: 50Hz
· On/Off switch control the fan
Product Description
· Convert DC 12V electricity source into AC 220V power.
· Widely used for all kinds of electric equipments which power consumption are less than 500W and which voltage are equal to AC 220V, such as cell-phone, portable computer, electric light, digital camera, vidicon, TV, CD player, DVD, electri fan, electric tool and so on.
· It can be made from advanced PWM CMOS chip, and can work in the state of ultrasonic sound, which can both in a great extent minish the bulk and weight and make the circuit work without noise.
· The output of the product is a universal socket, which can be used in many countries.
· The newly-added USB output socket can be directly used to charge for MP3 and mobile phone.
Specification :
· Input voltage: 10.5-15V DC
· Output voltage: 210V - 240V AC
· Power rating: 500W
· Frequency: 50Hz
· On/Off switch control the fan
· Automatic Thermal Shutdown
· Overload Protection
· Extra Surge Capacity
· Low Battery Alarm/Shut Off
· Reverse Polarity Protection
· Size: ~152*95*55 mm
· Weight: 733g