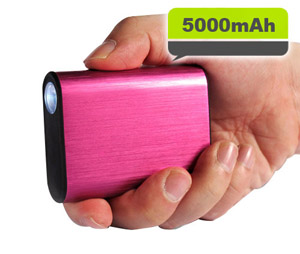 Product Model :
SS-5000mah-B
Product Intro : 5000mAh Super Externel Power Backup Battery with LED Torch
1. Super Apple (iphone/ipad/ipod) accessories
2. Compatible with most USB powered devices and more
3. LED Power Indicator

Product Description
Input Current: DC4.8-5.2V 1A(max)
Output:5V 500ma
Battery capacity: 5000mAh
Dimmension: 76x58x21mm
Weightt: 136g
Color:Rose red,Silver,Titanium gray,Champagne gold
Suitable for all the Communication Digital Devices with DC-5V Input.
Assembly with kinds of changeable connectors, you can power and recharge your mobile or PDA, iPad, iPod, iPhone 4, iPhone 3G, Blackberry, PSP, MP3 player and other mobile devices anywhere